Handheld Chess Products - An Overview
by Chris Kantack
(This page last updated: October 26, 2015)
Have you ever wanted to play a quick game of chess while waiting to board your plane at the airport? Are you a daily bus or rail commuter who would love to play a game en route to or from work? Do you ever find yourself torn between playing a game of chess or going outside and enjoying the sunshine and fresh air of a beautiful day? Chess programs for smartphones, tablets, e-readers, portable gaming systems, and handheld chess computers, make it easy to start or resume a game of chess almost anywhere anytime. Handheld chess can be a lot of fun. Best of all, there are no pieces to lose!
This page is divided into 3 main sections. First a few chess programs for Apple's iOS platform are reviewed. Secondly, chess apps/tablets for the Android platform are listed. Finally, older dedicated chess handheld units and programs are discussed.
A Few Chess Options for Apple Products
I've owned an iPad since April 2010 and have found it to be my favorite device for portable chess. Apple's iOS platform, which consists of the iPad, iPad-Mini, iPod-Touch, and iPhone, are all capable of running much of the very best portable chess software available. Immediately below is a brief description of the chess programs on my iPad.
Stockfish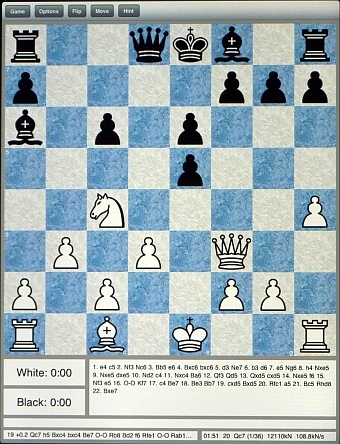 There's an old saying that goes "the best things in life are free". This may be true when you're talking about chess programs for the iPad. I say this because of Stockfish. Stockfish is one of the very best chess programs for the iPad and it doesn't cost a cent. Stockfish has an extremely wide level of difficulty settings. The strength of the computer engine can be adjusted in 50 Elo point increments from 0 to 2500. That's 50 different strength levels! "Permanent brain" (a feature that controls whether the computer "thinks" on your time), can be easily switched on or off. Additionally, 6 different playing styles are offered: "Passive, Solid, Active, Aggressive, Suicidal, and Random". In my own testing, Stockfish has proven to be a formidable opponent even against desktop computer programs rated 2500 Elo and higher! I sometimes believe that the strength levels listed in Stockfish may be a bit too conservative. That is, if one plays Stockfish at the Elo setting of 1000, that corresponds more accurately to an Elo setting of 1200 or 1300 on other chess programs.
As with the other chess programs reviewed on this page, Stockfish allows you to easily set up a position for analyses or for solving chess puzzles from books. However, the implementation of this feature, at least on my iPad, seems a bit odd. When "Edit position" is selected, a much smaller representation of the chessboard appears where you can add/remove pieces as needed. It would have been much easier if Stockfish would have allowed you to directly edit the full size chessboard represented on your device's screen rather than on a miniaturized board. I can imagine that on an iPad-mini, editing a position with Stockfish might be pretty tough!
Stockfish can also be used like a regular chess board (you move both sides), and as an analysis tool. Stockfish comes with a very rich set of features including the ability to automatically record and email your game. The email feature automatically formats your game into PGN format for easy importing into other chess programs. Stockfish is optimized to take full advantage of both the iPhone and iPad platforms. It does a great job of supporting multiple finger gestures and there are numerous options for customizing the board colors and piece sets. You can even select to turn on/off "figurine notation" if desired. If you own an Apple portable device and love chess, you've got nothing to lose by downloading and giving Stockfish a try.
Chess Pro - with coach, Chess Lite - with coach, & Chess Free - with coach
Developed by Christophe Theron, author of Chess Tiger, "Chess Pro - with coach" is a first rate program that can be used at all levels of chess play. Players, who are brand new to the game of chess, will find everything they need to learn the game. Experienced chess enthusiasts, who wish to perform extensive analysis of their games, will also find this program to be invaluable.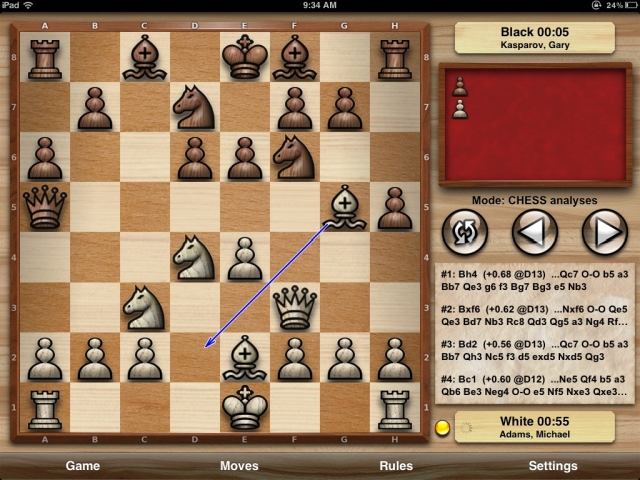 Originally this program was designed only for the iPhone in mind. However, "Chess Pro - with coach" has received a major update that takes advantage of the iPad's larger and sharper screen. This program offers the best "visual thinking" feature that I've ever seen in any chess program. If selected, the program will display the best moves being considered (or recommended) using a series of green arrows. The most favored moves are displayed with the thickest and brightest arrows. Less favored moves with thinner and dimmer arrows.
The "Enable variations" functionality in "Chess Pro - with coach" is extremely useful. You can try out an unlimited number of variations when analyzing a game and then easily get back to the "main line" when ready. Even if you don't use the advanced functionality of "Enable variations", I find this program to be the best program for easily navigating forward and backwards thru a chess game. When I just want access to a "virtual chessboard", I'll set this program to human vs human mode with its computer analyses turned off.
This program offers all the usual features and functionality that one expects in a high-quality modern chess program. You can import and export games, select a wide selection of strength and playing style settings, choose from a number of different chess boards and piece styles, set up human vs human, human vs computer, or computer vs computer games. As with Stockfish, Chess Pro - with coach makes it very easy to email a game in PGN format. This comes in very handy when you wish to send your completed game to another computer for further analyses. Whether you're an absolute beginner or expert player, you'll find a lot to like in this program. Prices vary throughout the year. "Chess Pro - with coach" typically retails around $10. Sometimes you can find it on special for around $4.
There are also two lower-cost options. With "Chess Lite - with coach" you don't have as wide of strength levels to play against. Otherwise it is pretty much full featured and typically retails for $4. "Chess Free - with coach" gives you a chance to try out the program for a limited time at no cost at all.
Note: Sometime soon, I plan on having a more detailed review of "Chess Pro - with coach" posted at this site.
Chess.com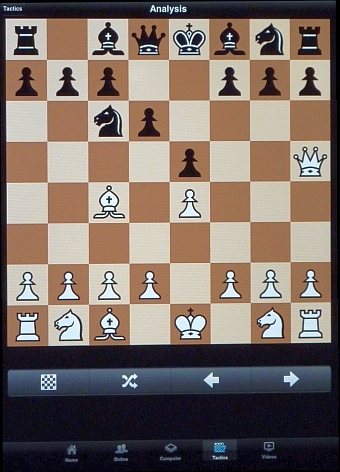 Another chess app I frequently use is Chess.com. With this program you can play chess online against other opponents, play against the computer, analyze games, watch a number of different instructional chess videos, or practice chess tactics with Chess.com's "Tactics Trainer" offering.
Indeed, "Tactics Trainer" is my favorite Chess.com feature. This selection allows you to practice various chess tactics and (optionally) be scored on how quickly you solve the various puzzles presented to you. Hundreds of different tactical puzzles are available that explore the whole range of different situations you may find yourself in. Sometimes you are looking to win material, other times you're going for checkmate. Many of the puzzles involve sacrificing significant material before the combination pays off. I have enjoyed many hours in "Tactics Trainer".
How much you can do with Chess.com depends on your Chess.com membership level. The free membership level is actually pretty good in that you can play against the computer and do a limited number of tactical exercises per day. (It seems to me that if you turn off your internet access before launching Chess.com, you'll be able to do additional tactical exercises beyond what is normally offered by the free membership level.)
Chess.com's paid membership options range from "Gold" membership at $5 per month to "Diamond" which costs $14 per month. You can save money if you pay by the year with Gold costing $29/year and Diamond at $99 per year. There's also a "Platinum" level membership at $49 per year, but only Diamond level gives you access to the training videos. I find the free option to be adequate for my needs but I have had an opportunity to sample a number of the training videos and they are pretty good.
The board graphics in Chess.com are excellent and customizable. There are 10 different strength level settings for the computer opponent with 5 different styles of play available. These selections should be more than adequate for beginners and casual players. However, strong club players, (those rated over 1600), may need to look elsewhere as the computer opponent in Chess.com is not particularly strong. If you're looking for the option of playing against extremely strong computer opponents, consider using Stockfish or "Chess Pro - with coach".
Shakki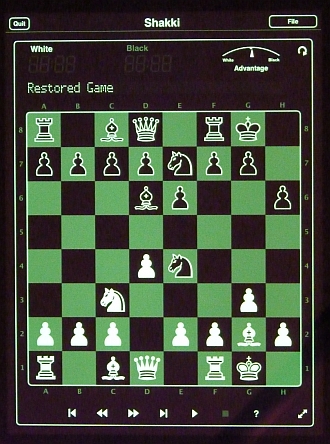 Shakki (Note: The below summary is based on the original version of Shakki. An update for Shakki was released in mid-June 2013. I've already discovered a few bugs that were not there in the original version. I do not recommend Shakki at this time. I'll update this review again if another version of Shakki ever gets released.)
Shakki is Finnish for "chess" and is the title for a chess program developed by Ulf Bierkamper. What attracted me to Shakki was its look on the iPad. In its default setting, the graphics are razor sharp and stand out very beautifully against a jet black background. Though green is the default, you can choose from just about any color under the rainbow. You can also opt to reverse the colors. That is, have the chess graphics superimposed on a pure white background. Shakki also employs some clever graphics on its main "Settings" navigation page. "Behind" the buttons where you can start a new game, resume the current game, edit the board, or load a previous played game, you will see chess pieces randomly drifting across the screen in the background. It's certainly not essential to have such a feature in the program, but it is a nice touch that shows some serious work went into the creation of the graphics for this program. Though Shakki only offers one piece type for the chess pieces themselves, it is the Merida style which is my personal favorite for 2D chess piece representation.
Unfortunatey Shakki's graphics are probably the best part of the program. The chess engine itself, while strong enough for beginners and casual chess players, is no match for a strong club player or even a 10 year old handheld chess computer. I played Shakki against Excalibur's Talking LCD handheld in a series of games that tested all 8 levels of Shakki's strength settings. When I limited the Excalibur unit to thinking ahead by 3 ply (3 half-moves), it was able to beat Shakki across its first 4 levels. Shakki's higher levels could beat the Excalibur unit at 3 ply but when I set the Excalibur unit to 4 ply, it continued to beat Shakki even at Shakki's highest setting. Currently I estimate Shakki's maximum chess playing strength to be around 1600 Elo.
With Shakki you can choose to play white or black against the computer, but there is no "human vs human" setting that would allow you to use Shakki for playing both sides. Thus you can't use Shakki for playing against another person or for following chess games from books. When playing against the computer, Shakki shows its thinking process by using arrows to show the move it currently thinks is best. A nice feature except there is no way to switch it off. Shakki also lists the lines of play it is considering above the chess board while evaluating its moves. However, you can't turn it off and it does so using only "from/to" rank and file notation and not the more common algebraic notation that most programs employ. There's also an arrow indicator showing "at a glance" which side currently has the advantage. Unfortunately, this advantage indicator appears to only take into account material advantage and not the overall evaluation of the position by the program.
You can save and email games from Shakki. Generally I found this feature to work well but I have seen cases where pawn promotions are not accurately recorded. Thus I have had to manually correct a few PGN files before I could import a Shakki generated PGN file into another program for analyses. I've also encountered a "low memory error" with Shakki. In my 3 years of owning and using an iPad, I've never had to worry about memory capacity errors until I started using Shakki.
There have been no updates to Shakki in over a year and a half. Though I can't be sure, my gut feeling is that we won't be seeing any further updates to this program. My recommendation: avoid this program. There are better places where you can spend your chess dollars.
Apple's iOS platform is by far the most popular mobile applications platform and it shows in the many (over 100?) chess programs available. Feel free to send me an email if you find a chess program you really like that is not discussed here.
Phones and tablets that have access to the Google Play Store are capable of running a huge selection of chess programs. Here are a couple of Android chess applications, I've gotten familiar with:
iChess is a superb chess tactics exerciser program developed by Asim Pereira. Now available for both Android and Apple systems, I find iChess to have several advantages over the tactics trainer found in Chess.com's iPad app. First of all, each tactics exercise comes from a real life game. (You'll see the players and date of the game listed just above the chessboard.) Secondly, if you make a mistake, you don't have to start completely over with the combination as you would have to do with Chess.com's trainer. Instead, you just keep trying at the step where you're at. Thirdly, you have some control over the amount of effort it takes to solve each puzzle you encounter. Difficulty levels offered are: Normal, Advanced, and Master. Finally, you don't have to have an active online internet connection when playing. Nor do you need to pay a monthly fee to have access to additional tactical exercises.
One of iChess's best features is that you can easily add more exercises. Additional packages are 99 cents each and typically contain anywhere from 200 to 300 puzzles. Some of these packages have a particular theme to them. For example, there is a 300 puzzle package on "Endgame Tactics", another 300 puzzle package covering the Sicilian Najdorf (Be2), and a 275 puzzle package titled "Magic of Mikhail Tal". Currently a dozen additional packages are offered with more being made as time goes on.
All good tactical trainer programs offer a "hints feature" for those times when you are truly stuck but don't want to skip the problem or see the whole solution. iChess offers a simple but very effective means of providing hints. If you get stuck, pressing the Hint button will outline the target square of the desired move.
iChess features sharp graphics and the piece style used is one of my favorites. 6 different pairs of board colors are offered--and they are all excellent color combinations. There are also multiple ways offered of progressing thru each puzzle set. You can configure the program to offer each challenge sequentially, randomly, or, via a "bird's eye view" feature, you can directly choose a particular puzzle by number.
You can easily email a puzzle (as a ".jpg" file) or share a puzzle via Twitter or Google+. iChess also offers "one button integration" with Analyze This (described more below). You can even import a PGN file of your choice into the program and use iChess as an "opening exerciser"! All in all, I find iChess to be the best tactical chess trainer I've yet encountered and I highly recommend it! The free version shows a small ad at the bottom of the screen. You can eliminate ads by purchasing the paid version for only $1.49.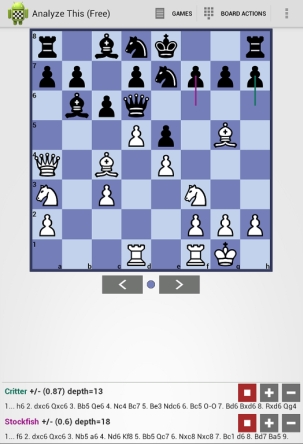 Once I have completed playing a chess game, I always put it on a computer for analyses. I find it interesting to see what other lines I could have played, tactics I've missed, and how well the computer rates my overall play as well as my opponent's. I've often used ChessMaster on a desktop system to analyze a game overnight. I then save and play back the results at a later time.
There is another way of analyzing your game with a computer that doesn't require several hours of pre-processing. By putting a chess program in "analyses mode" or by using a program developed specifically for analyzing chess positions, you can interactively study your game. This type of analyses has the computer engine displaying its best thinking lines in real time as well as providing you with an overall score of who is ahead. Asim Pereira has developed just such a program called Analyze This.
There are two key features with Analyze This that really help it standout amongst other programs that perform chess analyses. First of all, it comes with not one but two first rate chess engines. Both Critter and the latest version of Stockfish are included with Analyze This. You can run one or both engines simultaneously. Secondly, this program provides you with excellent visual queues as to the current best line computed by each engine. A line is shown from the source to the target square for the best move currently evaluated. Each line is color coded to a specific engine. Thus you can easily see, at a glance, which engine is favoring a particular move. The program also does an excellent job of displaying each engine's favored move, even if they both favor the same move. Sometimes, you may wish to see multiple lines of play from one or more of the chess engines. This can be done "on the fly" just by pressing the "+" key to add a line or the "-" key to remove a line. Additional lines will be shown below the chessboard. Though only the most favored move, from each engine, will be visually shown on the chessboard.
Some basic settings are offered. You have the ability to switch on/off the board coordinates. As with iChess, you can choose one of 6 different pairs of board colors. You can easily and quickly reset the board to the starting position, clear the board to quickly set up your own position, and flip the board so black is playing from the bottom.
As with his other chess programs, Asim Pereira offers Analyze This in both free and non-free "Pro" versions. The Pro version offers the ability to import additional UCI chess engines into the program and costs only $1.99! Whether you just opt for the free version or spend a couple of bucks to go "Pro", you'll find Analyze This to be an excellent study partner for improving your chess!
Archived Handheld Chess Overview Material
Much of the rest of the material on this page (immediately below) was written 9 to 14 years ago. It covers some of the dedicated chess handheld computers that were available then. In general, the dedicated chess units tend to have screens that work well outdoors or in other brightly lit environments, but provide poor visibility indoors in comparison to a modern smartphone or tablet. You can still find several of the models mentioned below for sale at various retailers on the internet. Be careful when shopping for older chess computers handheld or otherwise. Prices for the same model can vary dramatically from one place to the next. For some hard-to-find models you may end up purchasing your dedicated chess computer from smaller (less well-known) retailers or individuals.
ChessMaster for the Nintendo GameBoy
Probably the first widely available handheld LCD chess program was the ChessMaster cartridge for the original Nintendo GameBoy. It was quite successful and when the Color GameBoy was introduced, a newer version of GameBoy ChessMaster soon followed. As for program strength, Iíd give the color cartridge a rating of around 1700 to 1800 Elo when played at classical tournament time controls (40 moves in 2 hours). Unfortunately, the GameBoy suffers from a too small and murky display for many people to comfortably use for long periods of time. Also, it is extremely difficult to save a game for future play. (Saving and retrieval of a previously saved game requires the entry of a ridiculously long and cryptic password!) Additionally, the GameBoy suffers from very short battery life. Long games are best done with an AC adapter attached. This defeats the portability aspect of the unit. Finally, because the original GameBoy ChessMaster cartridges are no longer being manufactured, they are becoming extremely hard to find. Your best bet for locating a cartridge is at an internet auction site such as Ebay. You can learn a lot more about GameBoy ChessMaster on a web page where Iíve compared it with the Excalibur LCD handheld unit. Just click on this link: LCD Chess versus GameBoy ChessMaster
Programs for the Nintendo GameBoy Advance
With the debut of the GameBoy Advance in 2001, Ubisoft released a version of ChessMaster for the GBA (Game Boy Advance) . Around the same time a company called Titus released Virtual Kasparov for the GBA. I have no experience with either program but did receive a letter from Eric Fauman that summarizes the characteristics of these two programs:
I'm not a very strong chess player (completely guessing, I'm around 1200-1300), but I've recently returned to chess study as my 6 year old has taken in interest in the game. In addition to the above titles, I also have Fritz 7 for my 900 MHz PC.

The biggest difference between VK (Virtual Kasparov) and CM (ChessMaster) is of course their playing strength. CM is much stronger than VK. However, I don't think VK was designed to be super strong. I think it was intended for children and beginning players to get them excited about chess, and this it does very well.
My 6 year old is a respectable player for his age (he's beaten me twice!) and VK seems perfect for him. With 31 characters of smoothly varying skills, he's quickly found opponents at his level. The "story mode" encourages the user to challenge players they have not yet defeated. As you may know, in story mode there are 5 geographic areas, with 4 regular players, 1 master and 1 grand master. By defeating the regular players you "unlock" the masters; defeat the masters and you can take on the grandmasters. Defeat them and you take on Kasparov. (I can defeat Kasparov, but not on a regular basis). Because story mode keeps track of
whom you've defeated, my son is thrilled when he can defeat a new opponent. So far he's won against 6 regular players and 1 master.

CM, on the other hand, has only 2 characters I can defeat easily, and after that they seem to get very difficult very quickly. The user interface in CM is quite frustrating. For some reason, the program does not respond in a regular way to the arrow keypad. Thus, it
sometimes ignores key presses, and other times shoots past the desired piece. Also, in VK the cursor position defaults to the last place you pointed. This is especially nice in end games when you want to move the same piece several times in a row. In contrast, in CM the cursor position always resets to the bottom right, which wouldn't be so bad if the keyboard response weren't problematic. Another small thing: VK lets the cursor "wrap" around the board, so moving from the 1st rank to the 8th is a single key press. CM doesn't wrap. Another nice feature of VK is that the board position is constantly saved, so when you turn off the GBA in the middle of a game or if the GBA loses power, you can always pick up where you left off. Not only that, but VK permits up to three different "logins", so you can actually store 3 on-going games. In contrast, CM doesn't automatically save, and doesn't have multiple logins.
A nice feature of CM is that moves are recorded in algebraic notation to the side of the board. In contrast, VK doesn't list the moves. You can turn on an "indicators" option in VK so you can see what piece the computer moved if you missed it though. However, this means that at the end of a game in CM you can review all the moves, but you can't in VK. This is especially an issue when I want to review my son's games to see how he played.

The multiple board graphics in both games I think is a waste. Only the standard black-and-white board is easily interpreted. However, I do find this black-and-white board far easier to use than what I saw for the Excalibur LCD screens (I don't have one, but only the white pawns seem to make any sense - all the other pieces require one to exercise one's imagination).

The annotated games feature in VK is pretty useless. The sparse annotation scrolls by the bottom of the screen too fast to read. In
contrast, the stored games in CM can be useful.

Two final comments - somewhere I read a complaint that in VK you can't take back moves. This is true in story mode (where you earn trophies), but not in "quickstart" mode, where you can select any opponent and a variety of time controls. Also, I read a complaint of CM that it is very slow. This is true at CM's default time controls. However, you can set it to use as little as 5 seconds a move and still face a very strong opponent.

In summary, I'd recommend VK for children and other newcomers to chess, and CM for strong players. For in depth analysis and study, you probably don't want to be using a GBA anyway.

Hope this is useful,
Regards,
-Eric

Chess on the Palm and PocketPC
ChessGenius
While PocketChess has provided plenty of challenge for us mere mortal chess players, it wasnít until Richard Lang's introduction of ChessGenius did the Palm platform see its first "seriously strong" chess program. Finally, here was a combination of hardware and software that offered some serious play for chess Masters and GrandMasters alike. ChessGenius has been extremely popular among serious chess hobbyists due to its strong engine. ChessGenius also became available for the PocketPC platform. ChessGenius takes up very little room and runs on some of the oldest Palm handhelds as well as on the newest units. Richard Lang has a great site that tells all about ChessGenius. ChessGenius has recently been improved as well to take advantage of the recent changes in the chip architecture now used in the newest Palm units. Check out my review by clicking on: ChessGenius on the Palm
Chess Tiger
In July of 2001 Christophe Theron brought his exceptionally powerful and feature-rich Chess Tiger program to the Palm platform. Chess Tiger is as strong as ChessGenius and is arguably the most feature-rich chess program for Palm compatibles. Its strength rating is roughly 2200 Elo. (Strength will vary depending on the speed of your Palm unit.) Note that the Palm-based version of Chess Tiger is essentially the same as the PC version! The only feature missing from the Palm version (versus the PC program) is support for endgame databases. Christophe Theron provides a great web site (www.chesstiger.com), which offers several screen shots and FAQís that discuss this product in depth. You can also read my own review of Chess Tiger by clicking on: Chess Tiger for the Palm Chess Tiger on the Palm is now a free program!
PocketChess Deluxe
In 1996 PocketChess was released for the PalmPilot handheld units. PocketChess has since evolved into PocketChess Deluxe. It is one of the most "feature rich" handheld LCD chess programs available for the Palm. Though PocketChess may not have the playing strength of some of the more recent entries into the Palm market, it continues to be a very popular addition to the world of handheld chess programs. The original PocketChess site no longer exists, but you can still buy their software at selected sites. Just do a Google search for PocketChess if you would like more info.
Excaliburís Low-cost Alternatives
One drawback of Palm or PocketPC chess programs is that they, of course, require you to have the necessary Palm or PocketPC unit. Palm PDAs and PocketPCs are getting hard to find and can be more expensive than a dedicated chess handheld unit. If you don't need a super strong chess program, there are low cost handheld chess alternatives. (Though these units too are becoming harder to find.) Your best "bang for the buck", in my opinion, comes from the Excalibur units.
LCD Computer Chess
In June of 2000, Excalibur Electronics made a big splash with the introduction of their "LCD Computer Chess" handheld unit. This 6 ounce handheld originally came out with a suggested retail price of only $29.95. Later major retailers dropped the price down to $19.95 or less. (Nowadays you really have to dig thru internet sites to find it at all, and the price can vary considerably.) This unit offers plenty of features, fairly strong play (around 1350 to 1450 Elo), a large and bright screen, and exceptional battery life. I had my unit for 18 months before I had to replace its first set of batteries. If you're on a budget and donít require a super strong chess computer opponent, LCD Chess may be the one to purchase! Click here to read my LCD Computer Chess vs. Gameboy ChessMaster comparison.
Touch Chess
If there is a downside to Excaliburís original and Talking LCD Computer Chess devices, it is that it can be "keystroke intensive" at times. As if to answer the ease of use challenge that the Palm PDA platform offers, Excalibur Electronics came out with their own PDA chess unit in July of 2001. Touch Chess, as itís called, originally sold for around $40 and uses a stylus and touch sensitive screen for piece movement and function selection. This unit is only 1/2 inch deep and includes a refined version of the same program used in Excaliburís original LCD chess handheld. I estimate Touch Chessís strength at around 1550 to 1650 Elo. Touch Chess is exceptionally easy to use. Its main drawback, a darker screen due to the addition of the touch sensitive layer required for the screen face. Outdoors and in brightly lit rooms is where Touch Chess really shines. For a detailed review of Touch Chess visit my: Touch Chess Review
Chess Station
Chess Station is another unique product that came from Excalibur. It offered both the ability of tabletop chess play and portable use. It did this thru a sleek handheld unit that could plug into a "dockable" chessboard. Though it is hard to find Chess Station, the successor to the handheld portion of this product, "Pocket LCD Chess" can still be found on the internet at bargain prices! Learn more about Chess Station and Pocket LCD Chess by clicking on my Chess Station review link.
Talking LCD Chess
One of the best handheld bargains, at the turn of the century, was Talking LCD Chess. With a listed retail price of only $5 dollars more than the original LCD Chess unit, it was a real bargain. Talking LCD Chess provides audible announcements of its moves and is stronger than the original LCD Chess unit. The strength levels use more traditional (chess like) time controls too. Talking LCD Chess typically sold for around $25 when it was released. Read all about one of my favorite handhelds by going to my Talking LCD Chess review.
If, after reading thru these pages, you have further questions or comments relating to any of this material, drop me a note! My email address is: chessinfo@kantack.com or click the envelope icon at the bottom of this page.
My Computer Chess Pages
Handheld Chess Overview LCD Chess vs. GameBoy ChessMaster
Chess Station Alexandra King Arthur
My Other Chess Reviews
GameTime II Fancy Chess Set A Parent's Guide to Chess