Catherine Euphemia Fotheringham was born 7 June 1910 in Charles Mix County, SD. She died 22 June 2014 in Mitchell, Davison, SD, and was buried in Riverview Cemetery, Chamberlain, Brule, SD, on 27 June 2014. She married on 25 June 1934 to Marion Donald Shrake. He was born 21 August 1910 at Chamberlain, Brule, SD, and died 12 April 199 at Chamberlain, Brule, SD. He is buried in Riverview Cemetery, Chamberlain, Brule, SD, Find A Grave Memorial# 119610046. His parents were Peter Mathias Shrake and Anna Blanche Church.
Cathy and Marion had three children: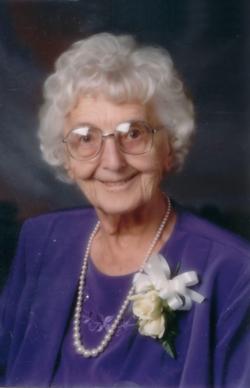 Obituary for Catherine E. (Fotheringham) Shrake, posted on the Hickey Funeral Chapel website:
Funeral services for Catherine E. Shrake, 104, of Chamberlain will be 10:30 am Friday, June 27, 2014 at the United Church of Christ in Chamberlain with burial in the Riverview Cemetery at Chamberlain. Visitation will be Thursday from 5:00 pm - 8:00 pm at the Hickey Funeral Chapel in Chamberlain.
Catherine E. Fotheringham was born June 7, 1910 to Elsie (Veal) and George Fotheringham. She grew up on a farm west of Academy, SD. After attending rural school she graduated from Ward Academy.
Catherine taught rural school until her marriage to Marion Shrake on June 25, 1934. To this marriage three children were born. Marion and Catherine made their home on a farm north of Chamberlain where Marion's father homesteaded. They lived on the farm until moving to Chamberlain in 1981.
Catherine resumed her teaching career in 1954 and continued teaching until 1960. After that she served as a substitute teacher for many years.
She was an active member of the United Church of Christ and the West Point Community Club.
Catherine passed away on June 22, 2014 at Firesteel Nursing Home in Mitchell, SD at the age of 104 years. Gratefully sharing her life are two daughters Ruby Pattison and husband Jerry of Mitchell and Garneta Lokken of Palmetto, FL; a son Peter Shrake and wife MariaAnn of Trenton, MI; seven grandchildren; 11 great grandchildren; four great great grandchildren; and two step great great grandchildren. Preceding her in death were her parents; her husband Marion; four sisters Agnes Johnson, Emily Johnson, Amber Paulson, and Sylvia Bailey; two brothers Frank Fotheringham and Ronald Fotheringham.