Lenora Jean Paulson married Ray Howard Thompson, son of Knute and Josie (Mogen) Thompson. Ray was born 11 Apr 1922 in Froid, Roosevelt, MT, and died 04 Aug 2015 in Platte, Charles Mix, SD. He is buried in the Platte City Cemetery.
They have five children:
5. Terri Jo Thompson
Obituary for Ray Howard Thompson (Mount Funeral Home)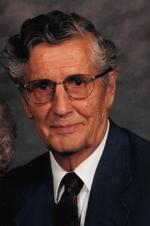 Ray Howard Thompson, 93, of Platte, SD went home to be with his Lord and Savior on Tuesday, August 4, 2015. Funeral Services are 2:00 P.M. Saturday, August 8, 2015 at Bethel Lutheran Brethren Church in Platte with Dr. Jon Lunde officiating. Casket bearers will be grandsons; Cory Thompson, Eric Thompson, Jesse Arbuckle, Dustin Holter, Brian Thompson, Luke Albertson, Levi Holter, and Nate Thompson. Honorary casket bearers are Rayís granddaughters Heidi Mason, Betina Fry, Kerry Thompson, Erika Willey, Stephanie Pillatzke, and the Sale Barn coffee group. A Committal Service with Military Honors will follow at Platte City Cemetery. Visitation will be held from 5:30 - 7:30 P.M. Friday, August 7, 2015 at Mount Funeral Home in Platte with a 7:30 P.M. Prayer Service.
Ray Howard Thompson was born on April 11, 1922 to Knute and Josie (Mogen) Thompson in Froid, MT. He attended Froid Public School and Hillcrest Lutheran Bible School, going on to serve his country during WW II in the US Navy, from October 1942 to January 1946. After serving on a troop ship, he volunteered for submarine duty. He served on the USS Sea Devil in the Pacific Ocean. He received several awards for military service including: the Naval Unit Commendation for Heroism, the Asiatic-Pacific Campaign Ribbon with 2 stars and the Philippine Liberation Medal.
Ray was united in marriage to Jean Paulson on August 25, 1948 at The Little Brown Church in Nashua, IA. After farming for several years he went into the carpentry and drywall trade, working in Froid, MT, Williston, ND and Henderson, MN before settling in Platte, SD. He was the general contractor for the building of Bethel Lutheran Brethren Church in Platte, SD and Lutheran Brethren Fellowship Church in Williston, ND. He was a member of Bethel Lutheran Brethren Church.
Ray gave his heart to the Lord in January of 1947 after he came home from the war and he continued to serve God throughout his life. In retirement he was able to spend many hours in Godís word, reading the entire Bible many times. He enjoyed sharing Biblical applications to everyday life. God was clearly first in his life. His honesty and character were obvious to all who knew him. He enjoyed spending time with family and especially grandchildren. They learned in a hurry that they did not get to win just because they were playing board games with "Grandpa". Ray loved spending time working with horses after stressful days at work and had a natural talent for training horses. Ray was a talented wood worker, and was able to build a special piece of furniture for each of his children and grandchildren. His creativity and talent in carpentry was obvious in every project he completed. His ability to complete complex projects with limited tools was amazing. Ray was able to find an easier and faster way to accomplish a task. In later years after completing a project that should have taken two or more people to accomplish, he would say, "I used my head".
Grateful for having shared in Rayís life: his wife of nearly 67 years, Jean Thompson of Platte, SD; his five children: Gary (Dorinne) Thompson of Henning, MN, Rick (Cindy) Thompson of Bismarck, ND, Tanda (Joel) Albertson of Leland, IA, Rhonda Weyer of Bismarck, ND and Terri Thompson of Sioux Falls, SD; 13 grandchildren: Cory (Kathy) Thompson, Heidi Mason, Jesse (Karessa) Arbuckle, Stephanie (Nick) Pillatzke, Nathan (Nina) Thompson, Eric (Mindy) Thompson, Brian (Robyn) Thompson, Kerry Thompson, Luke (Monica) Albertson, Erika (Aaron) Willey, Betina (Doug) Fry, Dustin (Trina) Holter and Levi Holter (Lindsay); 24 great grandchildren; a brother, Howard Thompson of Seattle, WA; a sister-in-law, Harriet Thompson of Ketchikan, AK; along with many nieces and nephews.
Ray was preceded in death by: his parents; three brothers: Ted, Orvin and Dan Thompson; three sisters: Irene Powell, Levina Jensen and Evelyn Thompson; and a great granddaughter, Alyssa Mason.
Memorials in Rayís honor may be directed to: Bethel Lutheran Brethren Church, PO Box 428, Platte, SD 57369.