Registration Tips for Formed.org
Formed.org is an excellent resource for a variety of religious audio, visual, and written content. On this site you'll find a number of books, audio books, and movies, from several different (almost exclusively) Catholic authors. Books are usually available for download in either EPUB or Kindle format. Best of all, for participating parishes, there is no cost to you for downloading or streaming any of the works made available.
Interestingly, you need not be a Catholic to take advantage of the membership your nearby Catholic Church offers. But you will need to know your "parish code" if you wish to sign up and utilize this resource at no charge to you.
Fortunately, finding out if your parish offers membership into formed.org, and what the appropriate code is, may be as easy as doing a Google search on your local Catholic Church's weekly bulletin. For example, if I live close to Holy Spirit Catholic Church in Huntsville, Alabama, I can go to Google and do a search on "Holy Spirit Huntsville AL bulletin". Selecting the top link displayed will take me to the bulletins page for that parish. From that page, I can choose to open up any of the three most recent church bulletins. In this example, I clicked on the August 20, 2017 bulletin. While browsing thru the material, I came across this item: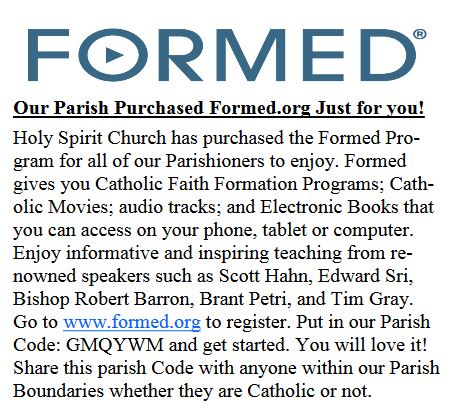 Note the 6 character code listed in all capital letters above. If you live within the confines of Holy Spirit Parish (in Huntsville, AL), this is the code that you would use when registering yourself at formed.org. Note, not all parishes participate in formed.org, and for those that do, they don't necessarily publish their formed.org code every week. So, if you cannot determine your local parish code, contact an informed church member or the parish office directly, to see if they participate in formed.org.
Once you've obtained the appropriate code, you can go to formed.org and register yourself and begin enjoying access to a wide variety of material. I especially enjoy the ease of being able to download e-books to my iPad and Android tablets. For iPhone and iPad users, there is a free formed.org app, you can download from the Apple app store, that is especially useful. (In fact, if accessing formed.org from an iPhone or iPad, I recommend that you only use the formed.org app that is available. For reasons unknown to me, the Safari web browser does not work well with the formed.org web site.)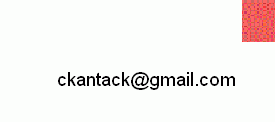 Return to Reflections Home Page
(This page was first posted on September 4, 2017)